Embracing darkness: The beauty of the black kitchen
Last but certainly not least, your wall space – the other way of flaunting black in your kitchen. And it's definitely one of the easier ways as well, seeing how quick it is to repaint a wall should you not be happy with your colour choice. 
Like a kitchen island, a black wall can become a great focal point. To stop it from looking like a black hole, add different colours and textures (like photographs, natural wood shelving, or accessory pieces that show of your personal style). 
Another great idea is chalkboard paint, which affords you the opportunity to flaunt a black wall that can be edited (with chalk, obviously) as many times as you like! We love the idea of recipes, shopping lists and motivational quotations being scribbled onto a black kitchen wall!
In the end, approach that black kitchen like you would any other colour: start out with small doses to determine whether it works for you, see if it really complements your existing space and style, and enjoy. After all, interior design (especially on a DIY basis) is meant to be fun! 
If black is a bit too much, you may want to consider these 7 stylish choices for your coloured kitchen.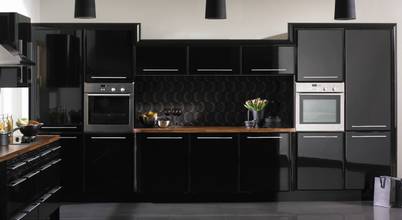 Embracing darkness: The beauty of the black kitchen
y (2019. Brené Brown's groundbreaking research on the impact of shame on our lives led her to giving one of the most popular TED talks of all time. Brene believes that we deepen our own humanity and connectedness to one another when we are aware of the impact of shame, and learn to empathize with others.
The Emergent Church's Retreat Into Pre-Reformation Darkness. The Emergent Church's Retreat into Pre-Reformation Darkness Paul M. Elliott
Rogier Van Der Heide: Why Light Needs Darkness. TED Talk Subtitles and Transcript: Lighting architect Rogier van der Heide offers a beautiful new way to look at the world -- by paying attention to light (and to darkness). Examples from classic buildings illustrate a deeply thought-out vision of the play of light around us.
Video of Embracing darkness: The beauty of the black kitchen